This puree is a real sensation. Sweet potato, as the name implies, can be quite sweet. The feta and lemon basil oil provide more balance. And the garden peas add a nice bite.
COMBINATIONS
This dish is delicious with a simple salad and a piece of meat, fish, poultry or something vegetarian.
REMAINING INGREDIENTS
lemon, basil, frozen garden peas: use for a salad, for example the nut rice salad with lemon dressing
feta: use this product for a salad (see my Salads)
frozen garden peas: easily kept in the freezer to use another evening
fennel seeds: this herb has a longer shelf life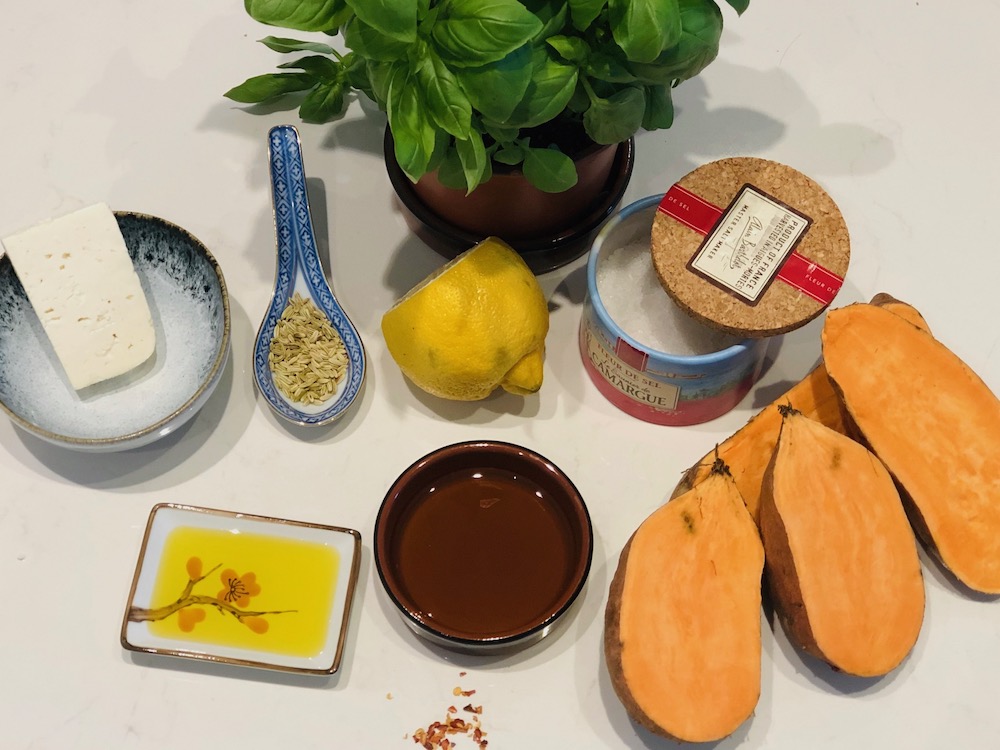 Bereidingswijze Zoete Aardappelpuree met citroen-basilicum & feta
September 2, 2020
: 2 pers
: 15 min
: 35 min
: 40 min
: Easy
Ingredients
Two sweet potatoes
Tbsp lemonjuice
3 gr basil leaves
Two tsp fennel seeds
100 gr feta
50 gr frozen garden peas
3½ tbsp good quality olive oil
Tbsp olive oil for baking
A dash of chili flakes/powder
Salt & pepper
Directions
Step 1

Preheat the oven to 200 degrees. Meanwhile, cut the sweet potatoes in half. Toss in a bowl with the olive oil for baking and some salt and pepper. Place the sweet potatoes, skin side up, on an oven tray lined with baking paper for 35 minutes.

Step 2

Grind the fennel seeds with, for example, a mortar. Crumble the feta and mix with the fennel seeds, the chili, some salt and pepper and half a tbsp of the good quality olive oil. Set aside.

Step 3

Finely chop the basil. Mix with the remaining 3 tbsp good quality olive oil and the lemon juice. Add salt and pepper and set aside as well.

Step 4

If you are using frozen garden peas, defrost them now by placing them in hot water and then draining them.

Step 5

Once the sweet potatoes are ready, you can easily remove the flesh with a spoon. Watch out because they're hot! You could also of course let the potatoes cool down first. Put the pulp in a bowl and puree. Then stir in the garden peas and some salt and pepper.

Step 6

Divide the puree over a bowl, spread the lemon-basil oil on top and then the feta. You can also serve part of the feta next to the puree so that everyone can sprinkle it over it themselves

Step 7

Enjoy!