If you have made this recipe a number of times, this will be a very easy dish to prepare during the week. I'm using turkey (schnitzel) but you can also replace it for chicken breast.
Tips
turkey: turkey schnitzel is thinner and therefore takes less time to cook. Turkey breast is often a bit thicker and it is therefore useful to make the fillet a little flatter, for example by covering it with foil, laying it on a cutting board and gently flattening it. The same goes for chicken breast.
cajun spices: the spiciness varies greatly by brand, taste a little bit first to assess how spicy it is. This will help you to decide ow much you want to use. I use 2 tbsp if the herbs aren't that spicy and about 1 tbsp if the herbs are quite spicy.
Combinations
Goes well with (sweet potato) fries (the ones from Ottolenghi are my favorite) or a sweet potato mash and an easy salad (see also my Salads).
Leftover ingredients
cajun spices, paprika powder, flour: these ingredients have a longer shelf life and always come in handy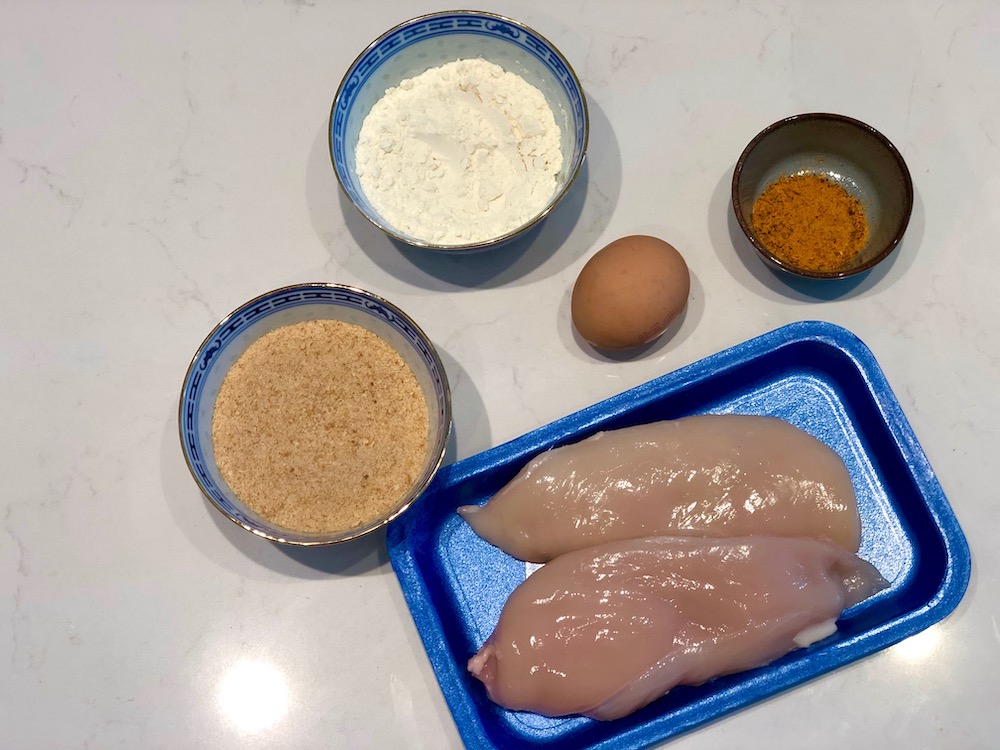 Preparation Crispy Turkey
December 11, 2020
: 2 pers
: 5 min
: 10 min
: 15 min
: Easy
Ingredients
2 turkey schnitzel/fillets
2 tbsp bloem
2 tsp paprika powder
8 tbsp breadcrumbs
Approx. 2 tbsp cajun spices
A beaten egg
Directions
Step 1

Mix the flour and paprika powder in a deeper plate/bowl

Step 2

Pour the beaten egg in another deeper plate.

Step 3

Pass the turkey through the flour mixture and place back on the cutting board. Remove the remaining flour mixture and mix the breadcrumbs with the cajun spices in the same plate. It doesn't matter if there's still some flour in the plate. For the spiciness of the cajun see my Tips.

Step 4

Pass the turkey through the egg and then through the breadcrumbs mix. Make sure all sides are well covered and put the schnitzel back on the cutting board.

Step 5

Heat olive oil in a frying pan and fry the turkey cutlets in the pan until tender. This usually takes 8-10 minutes, you can always cut the meat a little to see if it is cooked. Turn them over regularly. Also be careful that the crust doesn't get burned, put the fire down a little if it goes too fast.

Step 6

Enjoy!