This dish doesn't need many words, other than: deliciously crispy, simple to make and healthy. So hurry to your local the fish shop to treat yourself to this recipe.
TIPS IN ADVANCE
sesame seeds: can't find black sesame seeds? No problem, just replace this with white sesame seeds.
COMBINATIONS
This is delicious as an evening meal with a salad on the side.
REMAINING INGREDIENTS
panko, sesame seeds: these ingredients have a longer shelf life
ginger powder, soy sauce: use another time for the salmon in soy-ketjap- ginger marinade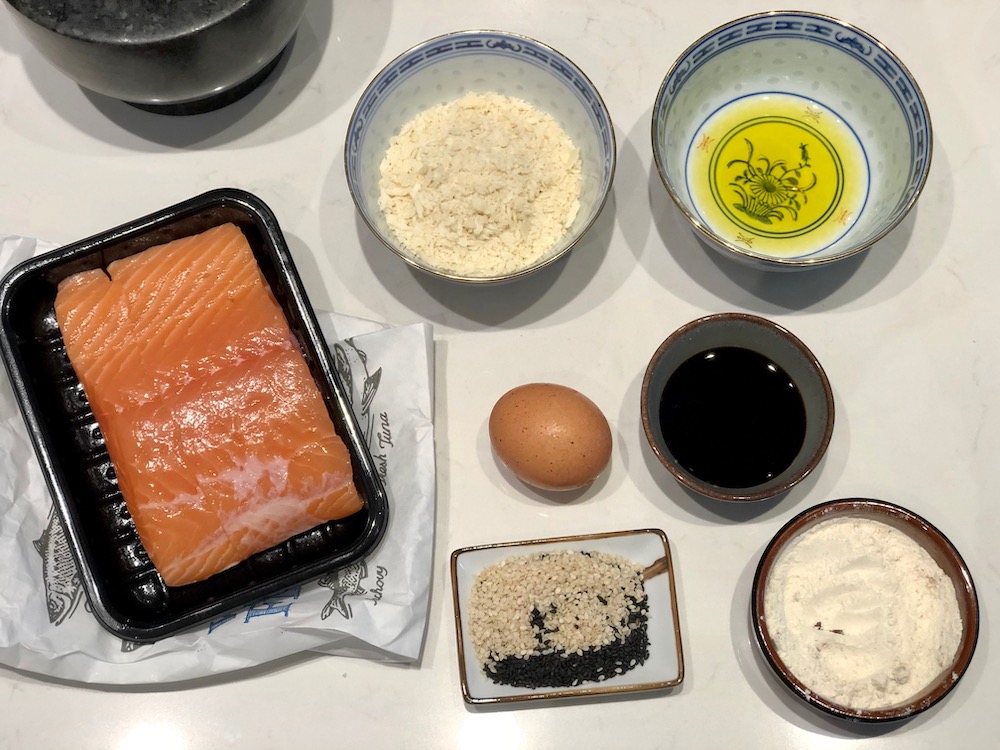 Cooking Instructions Crispy salmon
August 12, 2020
: 2 pers
: 20 min
: Makkelijk
Ingredients
250 gr salmon
40 gr panko
One tbsp of flour
One beaten egg
One tbsp white sesame seed
One tbsp black sesame seed
One tbsp soy sauce
Two tsp ginger powder
Some chili flakes/chili powder
Two tbsp olive oil suitable for cooking
Directions
Step 1

Preheat the oven to 200 degrees. Cut the salmon fillet, if not already done, into two pieces and place in the soy sauce.

Step 2

Beat the egg in a bowl. In another bowl, mix the panko with the ginger powder, sesame seeds, chili flakes and a tablespoon of oil.

Step 3

Put the salmon first through the flour, then through the beaten egg and then cover it well with the panko by gently pressing the panko in it.

Step 4

Then put the salmon in an oven dish, drizzle the remaining oil over the salmon. Place in the oven for about 14 minutes.

Step 5

And you are done!